In the light of Alderbank clinic recently suffering an extensive flood from a burst first floor water pipe (13/02/2020), causing significant damage to the Reception area and 3 treatment rooms, I would like to say a huge thank you to a several fantastic people.
If it were not due to the amazing support of my wonderful wife Victoria Barker and our current staff, Jaqueline Taylor, Caroline Hindle, David Wilkes, Debbie Ellithorn, Rebecca Soper, Neil Williams and Phil Garrett ,on the day of the flood and during the days afterwards, the clinic would have been forced to close for weeks. Miraculously, only one full day of business was lost, after which the team were able to keep 3 of the 6 treatment rooms unaffected by the water  damage, up and running throughout the renovations. An epic performance team Alderbank.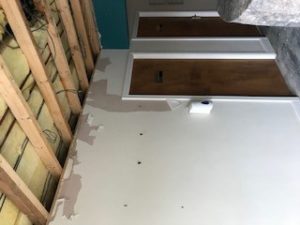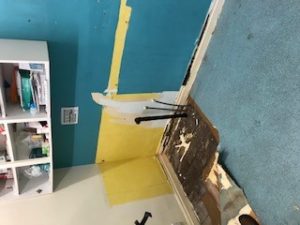 The source of the flood
All of the patients who attended over this period from 13/02/2020 to the present day have been extremely supportive and understanding, with hardly a single complaint at our make shift entrance/reception area and treatment rooms stuffed to the gills with extra bits of furniture and clutter, let alone a great deal of inconvenience caused due to rescheduling of appointments. Thank you all.
I must thank Aviva insurance, who, through our Graybrook's practice insurance, showed great understanding and rapid support at a time when half of the country also seemed to be under water. They allowed us to act swiftly making things right as soon as possible with trusted local businesses and tradesmen.
Thus my final big thank you has to go to all of the local Tradesmen and businesses which have helped to put us back together again. Many of whom, I know went out of their way to help us in our time of need, despite being extremely busy themselves already. I would not hesitate to recommend any of the people/businesses mentioned below.
Andrew Holden: Joiner, builder & roofer.
Vinny Hunt: Plumber.
Dave Ansbro: Builder.
Wayne Addicott: Plasterer.
Neil Maudsley: Electrician.
Sam Nuttall: Land& Electrical Ltd, Electricians.
David Hamer: Painter & Decorator.
Stephen & Simon: Bluemoon computers Longridge.
Paul Fairfax: Mears Carpets.
Broughton security alarms.
Jacksons skip hire.
I know that this has been a bit like an Oscar winning speech for a blog, however, what makes our recovery from this unfortunate event in such a short space of time even more miraculous, is that it happened at a time when I myself was off work and incapacitated following surgery to repair my Distal Biceps tendon rupture on 20/01/2020. So I was not much help throughout the ordeal.
I am therefore pleased to announce that the clinic is back working and functioning on all cylinders, with 6 treatment rooms offering multiple practitioner services, open for business as usual!
Many Thanks,
Lee Barker.
Physiotherapist/ Clinic Director.