WELCOME TO THE ALDERBANK PHYSIOTHERAPY TEAM
All Physiotherapists here at Alderbank clinic are committed to continuing professional development and regular participate in postgraduate training and a monthly intensive training programme. Please do not hesitate to contact us for a more extensive background of any of our practitioners.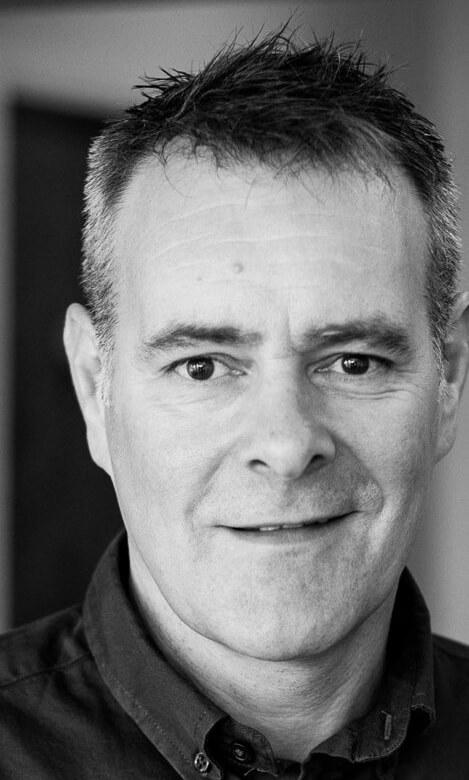 LEE BARKER
Head Physiotherapist & Practice Owner
MCSP, GRAD DIP PHYS Member of the Health Professions Council.
Lee opened the clinic in September 2002 with his wife Victoria, after his time at the Manchester 2002 Commonwealth Games. Lee graduated from the Queen Elizabeth School of Physiotherapy in 1990 and has gained extensive experience & broad knowledge from NHS hospitals in Manchester, independent hospitals in Bolton & Chorley and private practice.
Lee has worked alongside many eminent Orthopaedic Surgeons, held post of Chief Physiotherapist at the Bolton Wanderers Football Academy and was one of the lead physiotherapists on the primary care group of the Manchester 2002 Commonwealth Games, being responsible for establishing a successful Athletes medical village. All of the above whilst holding down the post of Physiotherapy Manager at a leading Northwest Independent Hospital. Lee also ran a successful clinic for 13 years at Stonyhurst College where he has gained extensive experience in the management of adolescent injuries.
Lee was part of the physiotherapy team treating athletes at the Athletes Village at the London 2012 Olympics. Lee specialises in manual therapy and sports medicine and is a Member of the Association of Physiotherapists in Sports Medicine, Acupuncture Association of Chartered Physiotherapists, Physio First and is registered with the HCPC. Lee now works full time from Alderbank Clinic.
Lee lists his interests as strength and fitness training with his son, kayaking and hill walking with Vicky his wife and dog Eddie.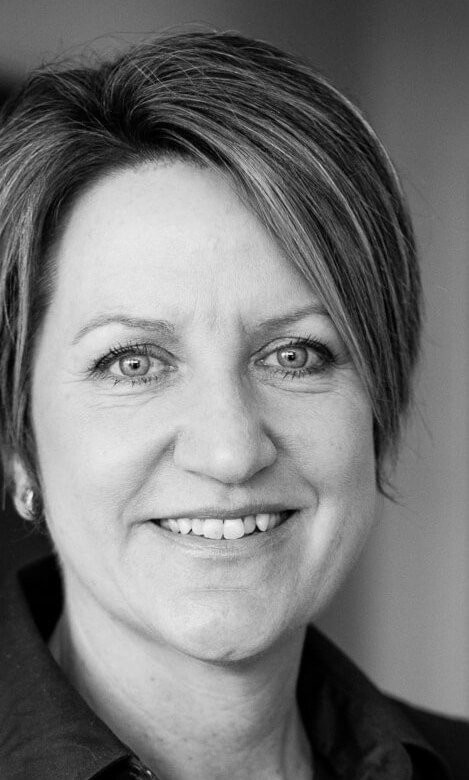 VICTORIA BARKER
Head Physiotherapist & Practice Owner
MCSP, GRAD DIP PHYS Member of the Health Professions Council.
Victoria opened the clinic in September 2002 with her husband Lee. Victoria graduated from the Royal Liverpool School of Physiotherapy in 1989. She has extensive experience and a broad knowledge of Physiotherapy from working in the NHS at North Manchester General Hospital & Royal Preston Hospital.
Victoria has worked primarily in the field of Musculoskeletal & Orthopaedic physiotherapy. She has worked alongside leading consultants in Spinal Clinic and pain clinic at Royal Preston Hospital. Victoria has had a vast experience in treating & rehabilitating both acute and chronic pain conditions in the NHS before turning to the private sector. Victoria takes a holistic approach to managing her patients and aims to rehabilitate the whole person to achieve their full potential. Victoria is a member of the acupuncture association of Chartered Physiotherapists (AACP) and Physiotherapy Pain Association (PPA).
Victoria prides herself on taking the quality of the patients experience at Alderbank Clinic as her main priority. This involves regular audit of clinical outcomes and customer satisfaction. Both Lee and Victoria are dedicated to offering honest, caring and professional service to all their patients.
Outside of work Victoria enjoys the outdoors, walking and canoeing especially. She loves to travel and is dedicated to regular yoga practice.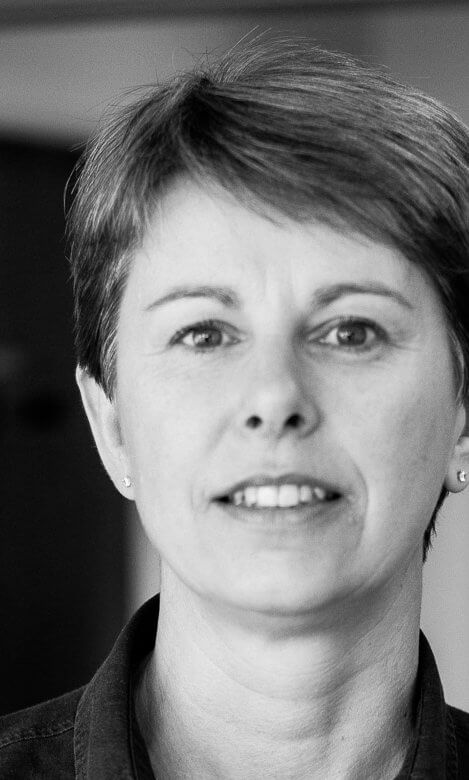 JACQUELINE TAYLOR
Physiotherapist
MCSP, GRAD DIP PHYS Member of the Health Professions Council.
Jacqueline graduated from the Royal Liverpool School of Physiotherapy in 1991 and began her career working in the NHS in Blackburn and later in Preston. She specialises in Musculoskeletal health and Orthopaedic physiotherapy and has a wealth of knowledge in the diagnosis and management of these conditions. She has a special interest in exercise and Pilates; she is a qualified Body Control Pilates Teacher. She is a member of the HCPC and Physio First. (Private practice professional network).
Jacqueline started work at Alderbank in 2016 and is passionate about providing treatment techniques including manual therapy, individualised exercise programmes, practical advice and education to help you manage your condition so that you can return to the things you enjoy.
Jacqueline completes regular post- Graduate courses ensuring that her knowledge is always current. She treats clients in a friendly, open and compassionate manner in order to understand her client's needs. She is encouraging and works with her patients to empower them to achieve their own personal rehabilitation goals.
Jacqueline lives locally, and is married with two grown-up children. She enjoys outdoor activities especially walking, cycling and skiing.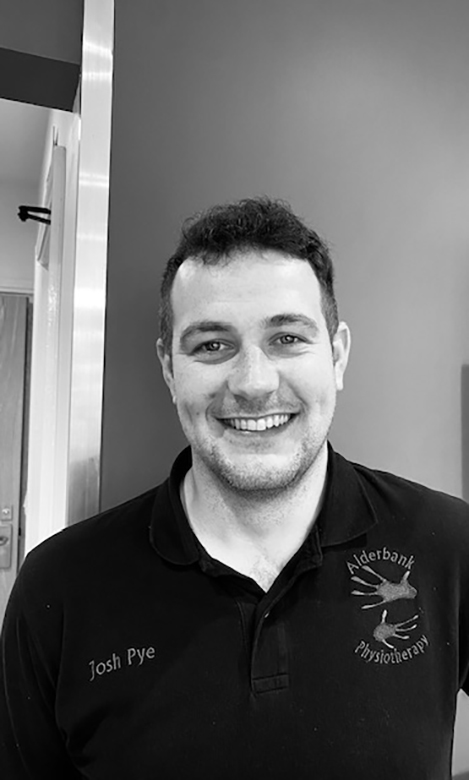 JOSHUA PYE
Physiotherapist
BSC (HONS) Member of the Health Professions Council.
Josh qualified from The University of Central Lancashire in 2015 and started his career as a rotational physiotherapist with East Lancashire NHS Trust (ELHT), gaining extensive experience in Musculoskeletal (MSK) physiotherapy, Acute Medical and Respiratory care and Community Therapy.
In 2017 he started a specialist MSK role within ELHT, working closely with GPs, Orthopaedic consultants and Advanced physiotherapy practitioners, assessing and managing a wide variety of conditions, Acute Sports Injuries, Chronic long term conditions and post-surgical rehabilitation and Spinal problems.
Josh is now in a split role of MSK Clinical specialist and First Contact Physiotherapy Practitioner (FCP) at ELHT where he is responsible for the Triage and management of MSK and associated conditions including referral for appropriate investigations. Josh has recently completed master's level training in First contact practice (FCP) and injection therapy and is qualified to administer corticosteroid joint and tissue injections for a variety of conditions- *not currently available at Alderbank.
Josh has a keen interest in the rehabilitation of sporting injuries, completing additional training regarding the rehabilitation of reconstructive knee surgery. Josh also sits on the Special interest and research group for upper limb conditions within ELHT, involved in application of the most recent and effective treatments for those struggling with conditions affecting the shoulder/elbow and wrist. He also has particular interest in manual and soft tissue therapy, with education and exercise programmes being his passion.
He is an active Sports person having played tennis at a regional level. He now has his Level 2 coaching qualification in tennis playing regularly and previously coaching at his local club. Football, walking his dog and spending time with his family are his other interests.
Josh covers our Saturday morning clinics.